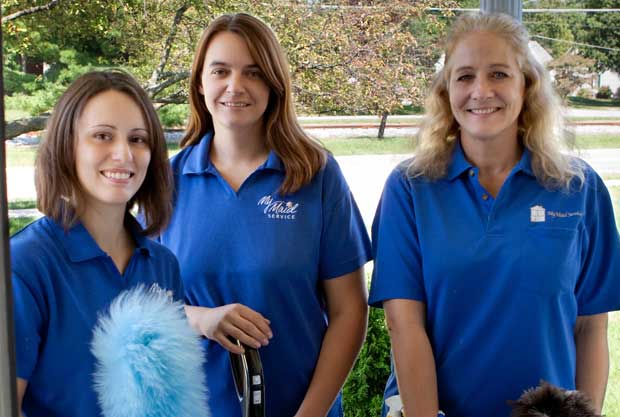 About Us
My Maid Service has been in business for 13 years and is proud to be one of the largest locally owned service companies in the North Dallas Area. We find that a personal touch in your home or office is very important. That is why we use the 1 maid per home system. This 1 maid per home system assures that your technician will get to know you and your family. We understand that it is the little things that are important, and we make sure they get done by taking the time to take notes on your home, room by room, to make sure that we have all of the information that we need to make cleaning right for your home.
In an industry with over 300% turn over rate My Maid Service stands head and shoulders above the rest. Our maids have an average tenure of over 18 months. We carefully screen our cleaning technicians, check their references, and even used a private investigator to perform back ground checks. My Maid Service only selects the most qualified applicants who enjoy, and show an aptitude for, cleaning homes.
My Maid Services in licensed and insured. We will always take great care with your belongings, but it's good to know that you are protected against loss and breakage that may occur while we clean your home.

Cleaning For a Reason
My Maid Service has always seen giving back to the community we service as part of our core values. Being the best also means we have to give back to the community. My Maid Service is proud to be a member of Cleaning for a Reason. Cleaning for a Reason is a foundation dedicated to cleaning homes for women under going chemo therapy. We take care of their homes so they can concentrate on taking care of themselves.
For more information on the good thing Cleaning for a Reason is doing in the community please visit their website at www.cleaningforareason.org.
Call My Maid Service today at 214-504-0656 to receive a free service quote or to schedule your service call.
My Maid Service: House Cleaning, Office Cleaning / Janitorial Services McKinney, Frisco, Allen, Plano, Murphy, Prosper, Anna, Little Elm, Melissa, TX
My Maid Service is a superior house cleaning and office cleaning / janitorial services company offering residential and commercial maid services in McKinney, Frisco, Allen, Fairview, Plano, Murphy, Anna, Little Elm, Melissa, Prosper, TX and surrounding communities.
My Maid Service is located at: 1601 N. Waddill STE 104, McKinney, TX 75069 – Phone (214) 504-0656