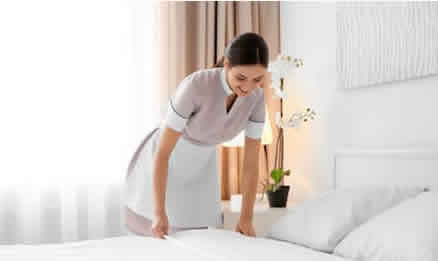 Finding Your Best Cleaning Service in Mckinney
Keeping a home clean is an ongoing and often exhausting endeavor that can be time consuming and unappealing. Whether you have a large family or are a single person, work from home or have a job that requires travel, a cleaning service can be the perfect option to make your life run smoother and easier. There are many options when it comes to choosing a cleaning service that will meet your needs–here are a few things to consider:
References and Reviews
A quality cleaning service should be able to provide multiple references that demonstrate that the company does perform quality work. References and reviews also reflect professionalism and will give you a sense of confidence in hiring a specific company. Speaking directly with customers will allow you to ask important and pertinent questions, which will provide insight about whether the company is a good fit for you and your needs. My Maid Service has been in operation for over a decade and is locally owned and operated and voted the best in McKinney in 2006 and 2007.
Training
A maid service company that trains its employees will be a good choice, as it will ensure consistency and quality of cleaning services. With all employees trained on specific cleaning methods, odds are there will be a greater chance of getting a thorough and exceptional clean. Also, with all employees trained with a specific method, chemicals will be used correctly and there is less chance for cleaning errors (i.e. staining, cleaning appliances incorrectly, etc.).
Custom Cleaning Plan
A high quality maid service company will follow a standard cleaning checklist and develop a plan that addresses your preferences and needs. A custom cleaning plan will help you address any specific areas you want or need cleaned as well as expectations.
Want to have a clean house in McKinney or Mckinney? Contact our professional team maid team today!